We had a blast at the stuffed animal sleepover on Friday, April 10th and Saturday, April 11th.
Here's a look at all that transpired…
10 children dropped off their animals for a sleepover at the library with Teddy (the library's resident Teddy Bear.) Paperwork was filled out (nametag for animal and special overnight instructions (i.e., lots of extra hugs and kisses before bed) were given. Each child helped to read their animal a bedtime story (Tuck Me In by Dean Hacohen & Sherry Scharschmidt) and tucked their animal in.
After the library closed the animals, apparently not tired after all, had many adventures. Including…
reading with their new friends,
playing games of checkers and hide-and-seek in the stacks,
using the book drop as a slide (how silly!),
making photocopies of themselves,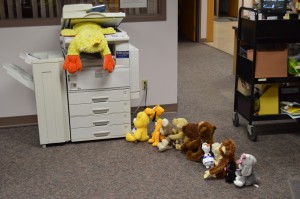 trying out the fishing rods (no bites 🙁 ),
having a snack,
making a craft (a teddy bear with their owner's name so they wouldn't miss them so much),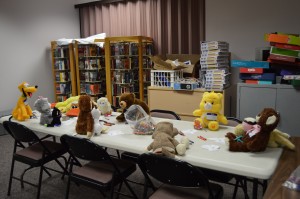 and finally a check up with Doc McStuffins before being tucked in for the night.
After an apparently short night's sleep, the animals were in good spirits to be re-united with their best (human) friends. Each child came in and enjoyed a snack with their animals (breakfast). Then, each child was given a photo storybook showing all that had happened overnight in the library. They even got to take home the craft their friends had made. Finally, the morning ended with their own craft project: their very own Tuck Me In Teddy.
What a wonderful event!